Pavellón Mies van der Rohe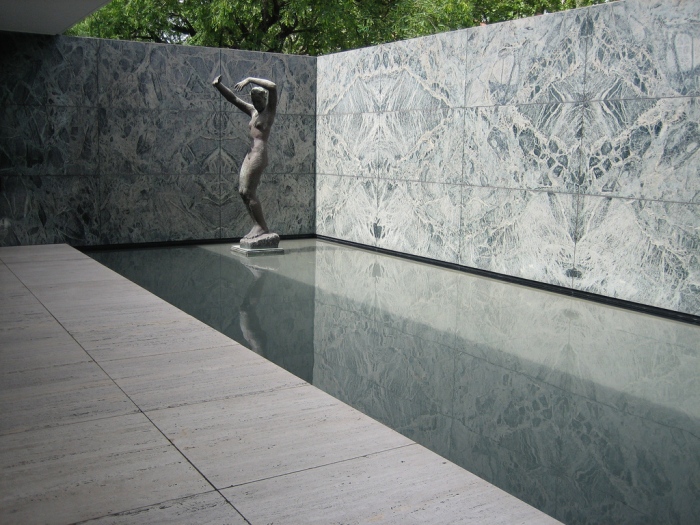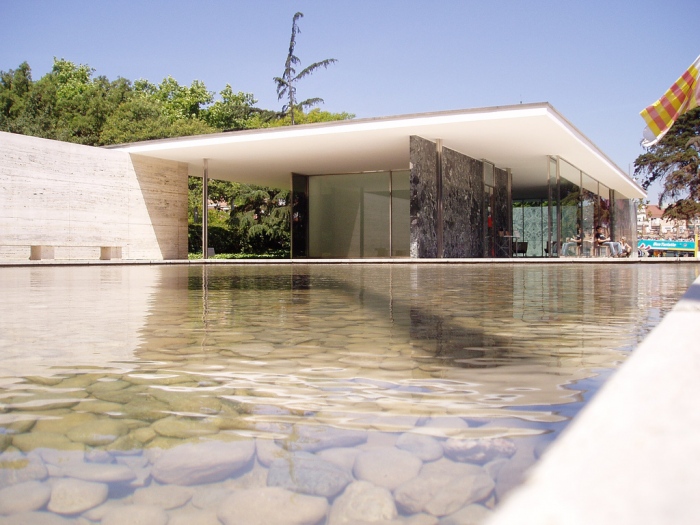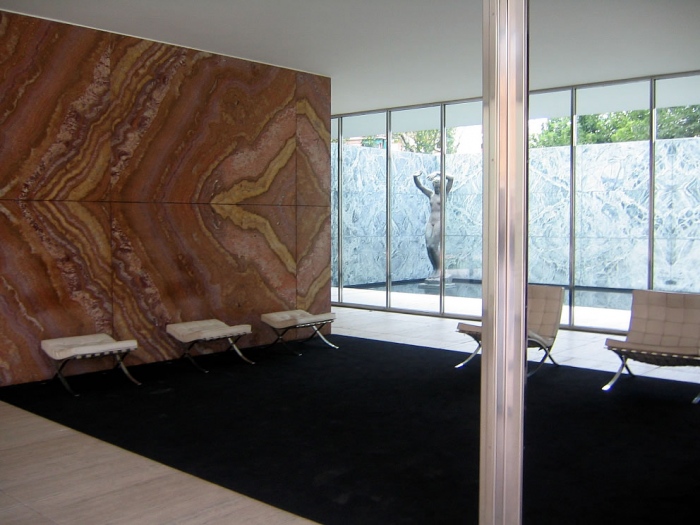 Among the architect's most outstanding works was the German Pavilion, built for the 1929 barcelona International Exposition and dismanteled at the end of the event in 1930.
A building that came to be seen as an example of modern architecture, on a par with Walter Gropius Bauhaus school and Le corbusier Villa Savoya, disappeared for over fifty years.
After several attemps, between 1983 and 1986 Barcelona City Council reconstructed the pavilion. The project was directed by the architects Cristian Cirici, Fernando Ramos and Ignasi Solà-Morales, and used the building's original site.
Its main elements are large glazed and stone surfaces sustained by chrome faced steel columns. The walls and floor are marble travertine, green marble and onyx, anchored to a metal structure.
Barcelona Chair is considered a landmark in 20th-century design. In 1925 Marcel Breuer designed the world's first tubular steel chair.
However it was not Breuer's version, but two Mies van der Rohe chairs which popularised the concept. One dates from 1927 and the other, the Barcelona chair, from 1929, when it was custom-made for the German Pavilion.
The costructions materials consist of Roman traventine, Greek green marble, Alpine breen marble, golden onyx, glas in different hues and steel pillars. The building also features a spotlight, a sculpture of Georg Kolbe, two pools and furnishings.
The Mies van der Rohe Foundation was created in 1983 as a non-profit public instution, to document, promote and defend modern and contemporany architecture.
The countless activies carried out by the Foundation include the European Union Prize for teh Contemporany Architecture, Mies van er Rohe Chair.
Type: Building
Year built:1929
Address: Marqués de Comillas
Area: Montjuïc, Poble Sec
Phone:+3493 423 40 16
email:[email protected]
Opening times:10am - 20pm all the days (weekend and holidays included)
Author: Mies van der Rohe, Ignasi Solà-Molares
Style: Bauhaus, Modern movement
Area of interest: Architecture, Interior or Industrial design
Services: Museum, Temporary Exhibitions, Shop
How to get there:
Closest station:

espanya L1 L3
Other stations:

teleférico parque del montjuic LF
Recommended Features Nearby Pavellón Mies van der Rohe
Restaurants Nearby Pavellón Mies van der Rohe:
Oleum, Oleum, Casa de Tapas Cañota, Casa de Tapas Cañota, Espai Kru, Espai Kru, Rías de Galicia, Rías de Galicia, El Lliure, El Lliure,
Nightlife Nearby: